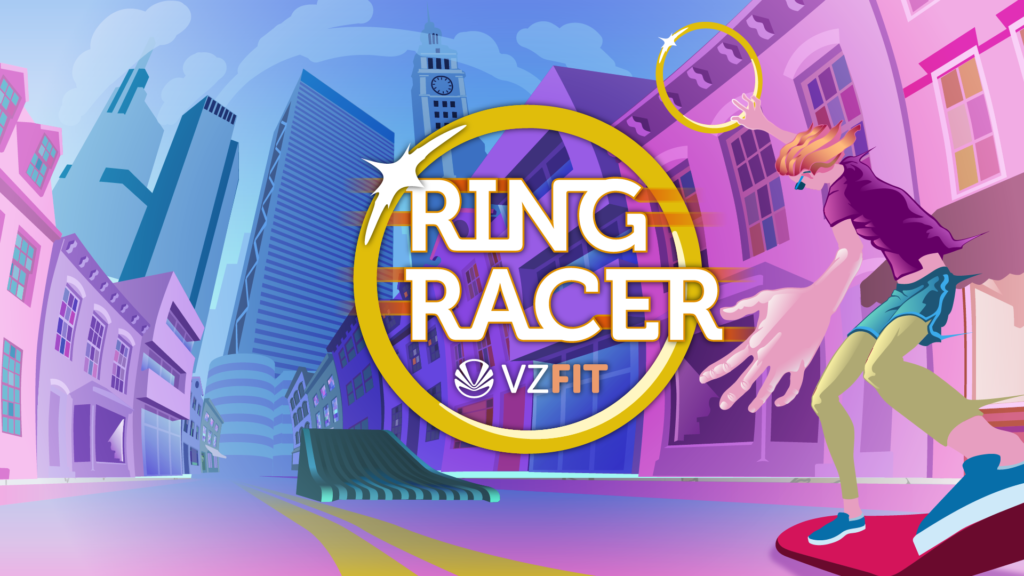 Developer
VirZOOM, based in Boston, MA
Release Date 
November 16, 2023
Platform
Meta Quest 
Meta Store Page
https://www.meta.com/experiences/2088366894520136/
Price
Included in VZfit Subscription
Introductory Offer 
$4.99 per month for 3 months then $11.99 per month 
or
$79.99 per year
Email

Link to Press Kit Files

Fly through the city streets as you gather rings, power ups, and try to top the leaderboards.
Ring Racer is a free add on for VZfit subscribers that adds new fast paced gameplay to the VZfit experience.  Using our new active motion controls the user steers a hoverboard through city streets, while hitting speed boosts, ramps, and rings all while avoiding obstacles. Each of the 9 cities available on release has a series of races and a banner to unlock for the new home space.
Ring Racer supports the Meta controllers as well as controller free mode and plays like no other game out there. Grab your board, get some power ups, and get racing.
Active Motion Controls
Ring Racer controls just like you would expect a hover board to. Lean your body to move the board around the streets. It's easy to learn but takes skill to master.
Controller Free Mode
Put those controllers down and use your hands to grab rings and navigate through Ring Racer in a fully supported controller free experience.
New User Interface and Home Space
We revamped all of VZfit. The home space is now a beautiful place to display your banners and spend time. The map is now core to the navigation through the app and you can see where races are on the map as well as challenges and traditional routes.
Mixed Reality
Combine your world with ours and enable the mixed reality windows. These work in all VZfit modes and allow you to choose the level of immersion you are looking for each day. The best part is they can be toggled on and off on the fly.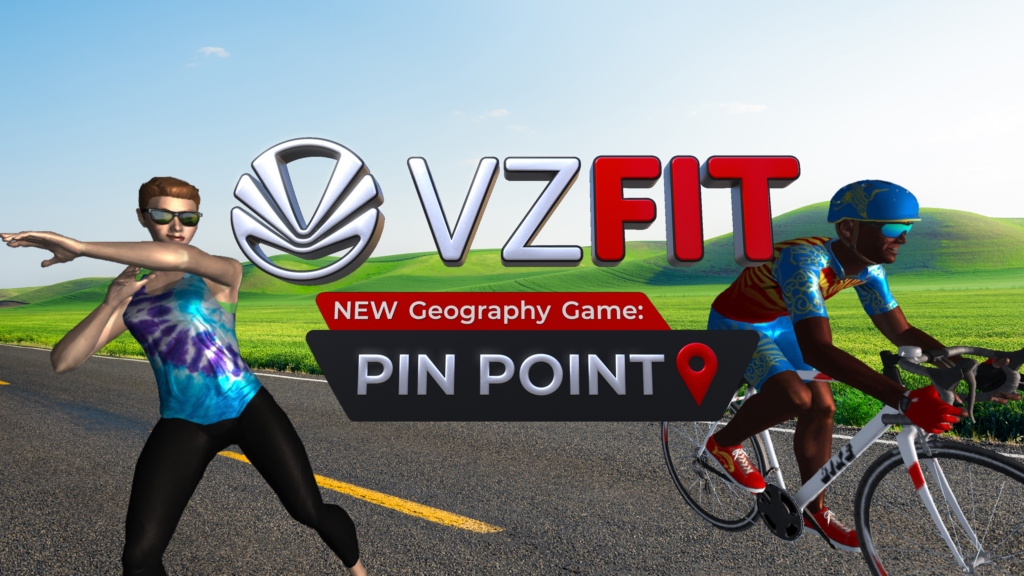 Developer
VirZOOM, based in Boston, MA
Release Date 
April 15, 2021
Platform
Meta Quest 
Website
Meta Store Page
https://www.meta.com/experiences/2088366894520136/
Price
Introductory Offer 
$4.99 per month for 3 months then $11.99 per month 
or
$79.99 per year
Email

Link to Press Kit Files

Workout, Play, Cycle, and Explore. Enjoy every minute of getting in your cardio.
VZfit is a Virtual Reality (VR) app for the Meta line of VR headsets, that uniquely uses Google Street View images to provide an almost limitless world to explore, exercise, and cycle. Users can experience a growing list of pre-curated routes made by the VirZOOM team, over 5,500 rides shared by other users, or create their own in app or online.
VZfit supports the Meta controllers and connected exercise devices. Users can choose to follow a trainer, dance, or walk to complete routes, or connect a smart bike or cadence sensor to pedal their way through the world.
Virtual Trainer
A trainer for both exerboard (standing) and cycling mode can be customized in look, sound, and workout. Choose from popular workouts such as HIIT and Tabata in either mode.
Streaming Music
Provided via Feed.fm, there are several streaming music channels providing popular music that is updated regularly.
Pin Point!
Get dropped in a random location and guess where you are based on the images around you. Play practice rounds to get to know the world, or engage in the daily ranked matches to top the leaderboards.
Access to Play
In addition to the VZfit experience, subscribers also get full access to Play, a suit of arcade games designed to be used with a smart bike.  Lasso bandits, fly over canyons as a pegasus, or engage in head to head tank battles. 
Seasonal Challenges

Play through curated challenges created by the VirZOOM team. Unlock account badges and outfits that match the theme of the current challenge.
Avatar Customization
Users can unlock new looks and customize their avatar to best represent themselves.
Full Mulitplayer
Join others on challenges, routes, or in the play games. Supports up to 4 players on a route and includes full voice chat.the