Hello Riders!
Thank you all for being with us on the long journey that has been VZfit. Since we officially launched on the Meta Quest store in April of 2021 we've strived to always improve the experience and bring fun, new features to make exploring the world through fitness more enjoyable. And we appreciate everyone staying with us and helping to build a friendly and welcoming community along the way.
For the past several months we have been working on some very big new things, while having the opportunity to develop on the new Quest 3, and we're ready to talk about our next major update to VZfit.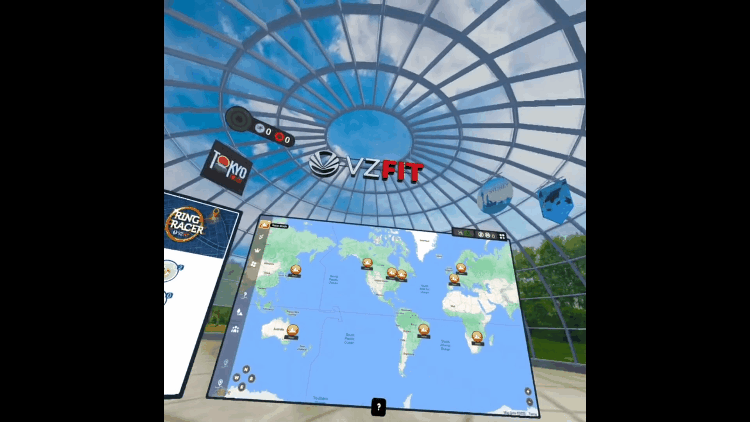 First and foremost, we'd like to introduce you to VZfit's new home. A welcoming, bright, and airy space, with a completely overhauled user interface that is centered around finding all of your rides on an interactive map. With the addition of new team member Bhavin Patel, a longtime game industry veteran, we have redefined the user experience of VZfit. With map filters to help you find your favorite VZfit activities you can now visually locate the rides you are most interested in. You can also now find other live riders in the world directly on the map.
One of the most impressive features of the new Quest 3 is the quality of its mixed reality experience. With that in mind, we've designed a mixed reality portal feature that allows you to ride anywhere, without losing the comfort of your own physical space. It also works with Quest 2 and Quest Pro, but really comes to life with the incredible color passthrough capabilities of the Quest 3.

A feature that has dramatically improved recently on the Quest platform, and which will soon be available in VZfit, is hands-free navigation. You'll be able to do everything possible in VZfit without the need for the hand controllers. This is especially great news for our bike-connected customers who will no longer need to hang a controller from the handlebars just to get in and out of rides.
And last, but not least, is the biggest new addition to VZfit, that we like to call Ring Racer. For a long time we have wanted to use our uniquely-developed motion controls and apply them to a gameplay mode in VZfit. So we have developed Ring Racer, an exciting new mode in which players race through courses in a variety of cities around the world, collecting rings, purchasing power ups, and trying to top the leaderboards. Perform well enough in each city and you'll get to hang its banner in your new home space. And much like our Challenge events, we plan on releasing new cities periodically to introduce you to more places around the globe. We're very excited for everyone to try out this new mode.

With all of these announcements we're sure there will be some questions. So we'll attempt to answer a few things now.
Because of the new map-centric user interface it no longer makes sense for our arcade-style games (Pegasus, Tank, etc…) to remain embedded in VZfit. So we will be relaunching VZplay as a separate app, where they will still be available to players who enjoy those experiences.
All other VZfit features are still present and accessible through the new interface. We still want to see your incredible Pin Point scores and we will continue to release Challenge events for everyone.
You may have noticed that the original Quest isn't mentioned above in reference to some of the new features. A few months ago Meta announced a plan to stop supporting the original Quest, and while it's still possible to publish app updates for it, we can no longer do so while also taking advantage of newer platform features that are only made available to the Quest 2, 3, and Pro. Most of the new VZfit features we are announcing today fall into that category, so we unfortunately must announce today that this new update won't be available to owners of the original Quest. We WILL, however, continue to support original Quest users with new Challenge events (through special updates only downloaded to original Quest headsets) through at least our annual New Year Challenge in January. We know some of you have been waiting for the Quest 3 to launch before upgrading and want to do everything we can to keep you engaged with Challenges through the holiday season.
And the improvements don't end with this update. There are still things we want to do and we felt it would be good to list a few of them here for you.
Expanded music choices and an improved interface for selecting them

Fitness challenge for New Year's

New cities for Ring Racer

Potential AI guided tours (this is a bit of a research project for us but has very exciting possibilities)
The next time you hear from us we will be sharing a trailer of the new features along with some new marketing art to go with it. Thanks for being patient with us all summer while this incredible team has worked so hard on these new features. We're all very much looking forward to sharing it with you soon.
Happy Riding,
Jason