Year One Major Update
In March of 2019 we officially launched VZfit and since then the response to the Sensor kit and VZfit Apps has been amazing. As of February our users are doing over 8 million spins per month! Over the last year we have made major improvements and additions to VZfit, and we have a couple of exciting announcements to make today!  Before we get to those announcements and our direction for the future, let's do a quick recap. If you want to check out everything we do be sure to look at our Updates Page.
Year One – In Review
VZfit Play
Going into the launch, VZfit Play had 8 games available, covering the spectrum from relaxing experiences like Le Tour to the more intense Helicopter battles. Over the past year we have added Winterstan, a larger tank battle level,  Cali Rally, a California coast cycling level and Keep Flying, a pegasus canyon level.  In addition to the new levels, we gave you something to work towards when we added Avatar Upgrades which not only affect your appearance but can also give you gameplay advantage. One of the most popular additions, especially for our Tank players, was when Head-to-head multiplayer games with voice chat, were added to Play. Having a human opponent on the other end really livens up the experience and makes a workout fly by.
VZfit Explorer
VZfit Explorer was a brand new app going into launch and one we were super excited about. Never before have you been able to ride nearly anywhere in the world and it really embodies the goal at VirZOOM, which was to make cycling in VR feel like cycling outside.
One of the first additions to Explorer was the Trainer. Whether you're looking for a HIIT, Tabata or Interval workout they are there to keep you company and provide the motivation you need for a good workout. Next was the ability to customize rides outside of VR using Google My Maps to export and Upload Rides.  In September we added Matchup Rides. Now not only can you ride almost anywhere, but you can meet up with a friend and ride it together!   One of the largest improvements we made was the implementation of additional rendering modes in Explorer that you can switch on the fly;  Comfort mode for more VR sensitive users and City Mode to allow further exploration in places where our standard rendering didn't work very well due to buildings and cars.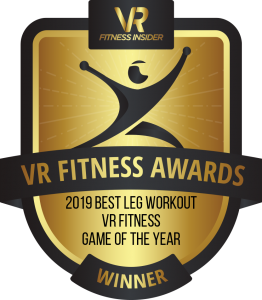 Community
All the hard work that we put into improving VZfit would be nothing without our community to help spread the word and play the games. Great Youtubers like Go Bros, BMF, Tyco Tech and Cas and Chary all shared VZfit with their audiences. While other users like Superlith, GoHybrid, Shon_T, Blakestar20, Justkelly and many others have shared their experiences in VZfit with many other members of the community and their friends. The community also helped us with one of our biggest accomplishments last year during VRfitness's VR Fitness Awards, resulting in VZfit becoming a finalist for best workout over all, and the winner of the Best Leg Workout 2019 category!  This was no small feat, considering we were going up against giants like BoxVR and Beat Saber! Hats off to you guys for making it a great year for all of us.
Announcements
To cap off the end of year one we have two major announcements, the first of which is going to blow the doors wide open for VZfit.
Third Party Cadence & Speed Sensor Support
That's right- you read that correctly- we are opening up VZfit to a huge range of available cadence and speed sensors.
Why now?
When we moved away from the bike to our VZfit Sensor Kit the whole goal was to allow more users to try VZfit, and to reduce the barrier to getting in the door. We made the sensor kit because we wanted to offer a great VR experience and early testing showed that other speed and cadence sensors would struggle. Well, just like many of you had bikes already, over the last year we have heard that many people already have a speed or cadence sensor and would like to try VZfit.  So we went back to the drawing board and spent some time hammering at the problem and finally feel that we can offer a great experience with third party sensors.
Buy Local
Another major reason we looked into this was the trouble with international shipping. We now have users in 42 different countries! VirZOOM is a pretty small US based company and we know that the shipping, tariffs, and duties have been a constant headache for our international customers.  By allowing users to purchase something locally, or even online in their own country we can help reduce that burden across the board.
In addition to speed and cadence sensors, we have added support for third party media buttons as well as the Oculus Go and Quest hand controllers. This again allows users to purchase a local solution or a button they prefer and use it with our games.
What Works?
We are testing many third party sensors as fast as we can. To see what we have tested and to check your gear you can look at our VZFit Compatibility page. If you have a sensor or button you have tried, let us know about it and we can add it to the list.
So starting today, all you need is a Cadence or Speed Sensor and your Oculus controller to get in and give VZfit a try. 
Lotus Pond – Release
The final release for VZfit year one is a completely unique game for VZfit Play called Lotus Pond.  Many of you have seen the kayaking game in trailers and we are happy to finally have released it!
DAY BECOMES NIGHT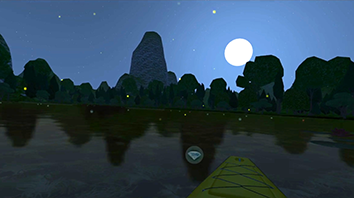 One of the most exciting aspects of Lotus Pond is that it has a full day night cycle. You spend half of your time enjoying the daytime, ducks, and sunlight. At night, the stars and fireflies come out and it's a truly magical place.
Like most of our games Lotus Pond revolves around score and optimizing your play. During the day you will paddle up to ducks, who will then follow you. Lead them to a feeding zone so that they can enjoy some duck food from the nice grannies on the shore line.  As day turns to night, the ducks fly off to roost and the goal now is to gather underwater gems. The fish are your allies here, and you will want to feed them above the gems so they can collect them for you.
The Future
So that's Year 1!
What do we have planned for the future?
First off, with the addition of Cadence and Speed sensors we know that the next question is "What about smart trainers and smart bikes?".  We are working with some of the trainer companies like Wahoo now to make VZfit compatible with those devices and hope to be able to announce more soon.
VirZOOM is constantly making new exercise games and improvements, based on your feedback and the inspiring possibilities of VR.  Our customers are composed of gamers and fitness enthusiasts so we get requests for more multiplayer features, more goal & progress tracking features, game ideas, as well as lots of little improvements to make their workouts better each day.
We track all of these ideas in a backlog and plan releases every month.  For instance we're currently adding 3D popups about interesting locations, integration with Strava to upload your rides, and streaming music to Explorer for the month of April.
Again, a heartfelt thank you to everyone for an amazing first year. We wouldn't be here without you.
Happy Biking and Stay Healthy.