Minor Update 1.4.5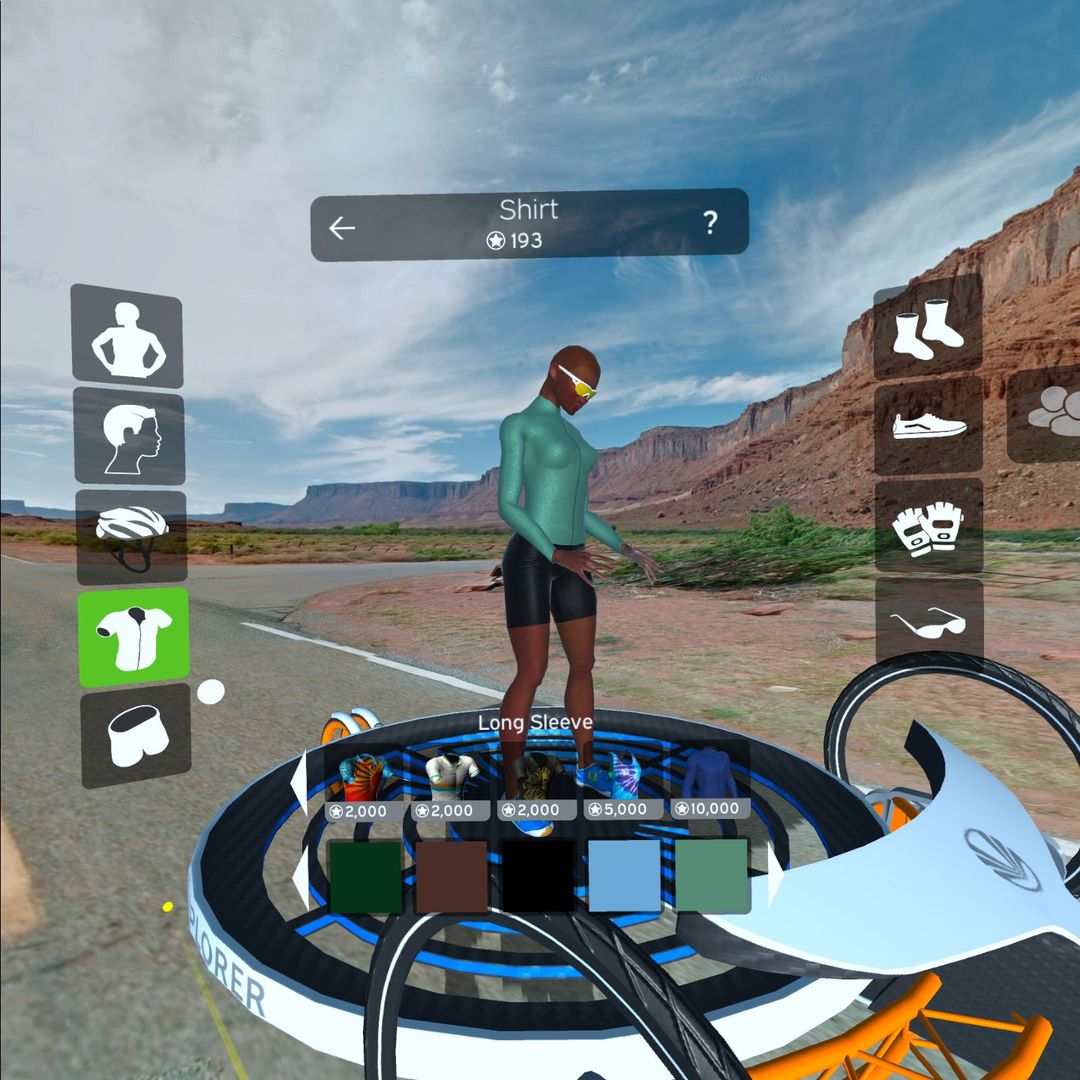 New long sleeved shirt and full length leggings available in asset store with many color variations
Improved flow for new users, including upfront avatar selection and a screen welcoming you to your trial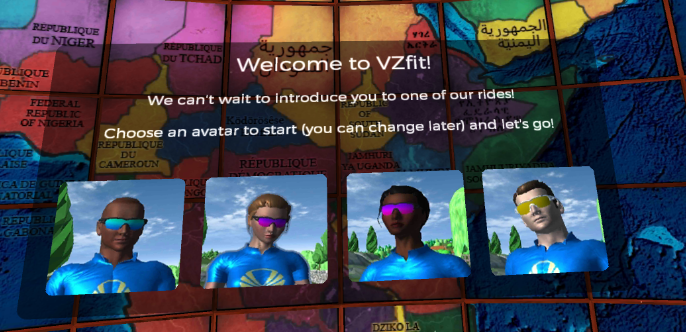 Options have been recategorized such that you can choose a movement method (Normal/Comfort) and rendering option (Country/City) separately, meaning you can now use Comfort motion in City rendering
When path ends or connection is poor and there are no available images to download, autosteer will bring you to a slow stop instead of spinning around in circles
Multiplayer is much more stable now and the HUD should now show correct session time
Multiplayer screen shows correct progress for virtual rides
Sound effects added for Tips, player joining ride, player leaving ride
Assets for the next Challenge have been added along with a new type of unlock
Snapshot upload fix
Improved Strava uploading
Increased buffer on braking for most bike device users to better handle delays in cadence reporting from devices
Points of Interest weren't showing for people in some regions but should be fixed now
Players shouldn't be able to fall out of virtual rides near the end of them anymore
Appropriately hiding multiplayer HUD in the no-HUD option mode
Removed the Exit VZfit button from Login and Create user screens
VZcals should be accurate on Snapshots again
Options selected during the tutorial will properly save to your profile after
Fix to male cyclist in first person mode
Tutorial edits to reflect membership and free mode changes
A few crash fixes

1.4.0 Update
Virtual Rides in VZfit 
French Country Side Ride added in both day and night modes
15km of smooth, modeled French countryside
Fun shortcuts available to those on manual steering
Treated the same as Google Street View rides with regards to route completion, multiplayer, autosteering, and coin collection
On Quest 2, graphically upgraded from the similar Le Tour ride in VZplay
Strava will upload as a real life route from France
New Ride Screen and Contextual Tips
Ride Details screen now shows progress icons on the map
Helpful tips now appear in menus and during rides to help teach you about concepts and features that you may be unfamiliar with
These can be enabled/disabled from the Options menu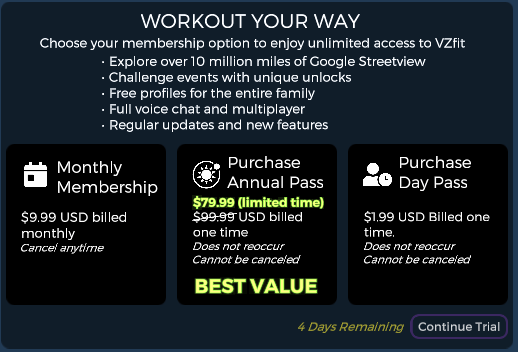 Subscription Options and Free Changes

 
Free users are allotted 10 minutes per day to ride but no longer have restrictions on any features or rides

The free time remaining will be displayed in the ride and the menus, but only count down when riding

Daily and Annual Pass options on top of the existing Monthly Subscription added
If leader departs a ride that you are getting completion credit for, you remain on the ride
Players using autosteer are assigned lanes relative to each other and each user will see others in the correct location
Bug fixes for edge cases
Comfort Mode Improvements
Trainer and other riders can now ride ahead of or behind you, reflecting their actual relative position to you

When there is a gap in available Google images there is no longer a lengthy wait before jumping ahead to the next image

Create Ride in comfort mode no longer shows Reverse Direction button persistently
Improved handling of Google Street View data resulting in a more consistent visual experience

Improved auto-steering that aims to better handle situations where Google images are placed in troublesome locations (i.e. less zig-zagging)

During black fades while changing options the heads-up-display remains active
Polished loading screens and fades during transitions
Leaning your body while in autosteer no longer turns the bike avatar
For new user registration, username is autofilled from Oculus ID when possible, which ignores the profanity filter
User interface in many parts of the game was polished for consistency
Diagnostic mode added for individual users with support problems
Challenge badges are now shown at vzfit.com
Adjusted coin text in HUD to not overlap anything else
HUD correctly updates when Move Back is used
UI polish and consistency pass with new text font
Autosteer will no longer turn you when you aren't moving
Fixed the Learner's Permit and Perfect Fit achievements
New user on an already registered headset will now see the Tutorial first thing
Improved panorama loading
Better messaging if a snapshot fails to upload
Ambient audio UI cleanup
Fixed a situation where ambient audio would double up on a scene switch
Fixed an audio bug in the tutorial
Note for Current Monthly Subscribers
If you are currently a monthly member I wanted to let you know how our new annual pass works. We really wanted to get this out before the end of the year, so we had to make a few compromises due to issues with the Oculus subscription system. 
The current Annual Pass is a one time purchase and not a subscription- this means it will not renew at the end of the year. Unfortunately, this also means that it is not part of the Oculus subscription so the path to swapping from monthly is a little more complicated than we would like.
First, please cancel your monthly subscription. Once that is done you will be pre-paid for whatever time you have left in your current month.  On the day when your monthly subscription would have renewed you will move to free, and the Annual Pass will be available to purchase.
We do not have the ability to offer refunds to Oculus subscribers, only Oculus can do that, so we implemented the Annual Pass this way out of an abundance of caution to prevent users accidently paying twice.
We plan to run the 20% off discounted rate through the end of January to provide everyone who wants to swap with plenty of time.
Our hope is these are temporary compromises and this will be implemented better soon. 
Thanks again for all of your love and support and if you have any questions please feel free to reach out to me or support@virzoom.com and we will be more than happy to help.
~Team VZfit