To kick off our new blog series, Explore the World, we are highlighting one of our recently added VZfit Explorer rides: The Gap of Dunloe in County Kerry, Ireland. The virtual route is 15.3 kilometers through the breathtaking greenery of the Gap.
The Gap of Dunloe  is a narrow mountain pass running north-south in County Kerry, Ireland, that separates MacGillycuddy's Reeks, Ireland's highest mountain range, in the west, from the Purple Mountain Group range in the east. It is one of Kerry's most popular tourist destinations due to its scenery.
The Ride
As the ride starts you will pass Kate Kearney's cottage. In the 1800's Kate ran an illegal drinking house here and brewed her famous poitín 'Kate Kearney's Mountain Dew', which was so strong that you had to dilute it seven times to make it drinkable. True to its roots the cottage is still a great place to get a pint on your way home. Unfortunately, we haven't figured out a way to serve the perfect pint of Guinness in VR yet.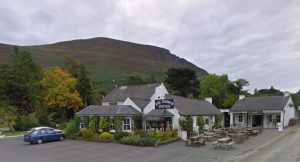 Keep an eye out for horse and buggies along the route! Referred to as 'jaunting carts' it's not uncommon in the busy season for these riders to make more than 50 trips out and back every day.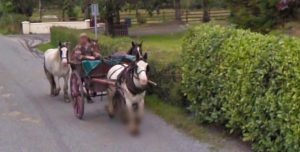 Fun fact:  a jaunting cart ride through the Gap is referred to as a taking "A trap through the gap" which can be pretty hard to understand with the local accents!
While the whole route is photo worthy, be sure to snap a picture as you ride over the Wishing Bridge, a popular tourist photo op spot. The bridge is so narrow that tourists snapping photos will often block the path for jaunting carts and bikers alike.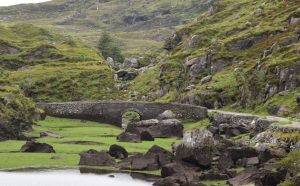 A one way trip through the Gap will take the average rider about 40 minutes and this trip is one that we highly recommend doing in both directions. Each way nets you approximately 450 calories burned. That works out to be a little more than 3 pints of Guinness if you want to embrace the taste of Ireland to celebrate your ride!
Don't just take our word for it!
"Was doing the Ireland ride last night. Man, that scenery is amazing."

Kelly-VZfit Rider
Check out this curated ride anytime and remember you can always make your own. If you snap a few pics remember to tag us @VirZoom on Facebook, Instagram and Twitter and let us know what you love. Keep riding and we will keep trying to figure out how to get that perfect pint pour in VR!
#WhereWillYouRide