I hope you're all enjoying the new outfit customizations and multiplayer features.  The team is hard at work on the next set of updates and I wanted to give you a quick preview on what's coming next.
We have watched the community organize events in VZfit using other services to help motivate each other and socialize around a specific goal.  We have also had a great time running a couple of events in cooperation with our friends at the Virtual Athletics League over the past several months.  As a result we have decided to add timed Challenges as a new feature to the game in our continued quest (pardon the pun) to bring people together for rides.
Challenges will run for a period of time, usually for at least a few weeks.  Initially they will have a single lengthy ride assigned to them, based on a specific theme or location.  While riding the assigned ride you will earn a new type of coin specific to the Challenge, but don't worry, you'll earn regular coins in the background as well.  These new coins will accumulate towards unlocks for the challenge, which will come in the form of exclusive outfit customizations matching the theme of the Challenge, and badges that will be a specific type of achievement that can only be earned during the Challenge.  We want people to be able to ride the Challenge with others so while riding from start to finish will be one way to meet all of the goals it won't be the only way.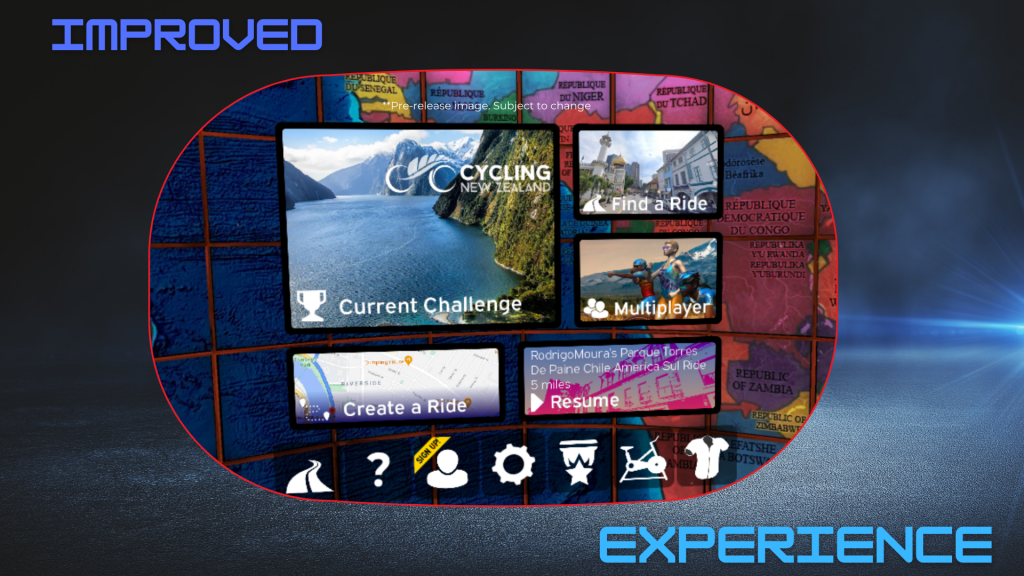 To help us promote this new feature along with the other great ride options, we are redesigning some of our menus.  There will be a new Rides menu that will more visually highlight your riding options.  We will also be moving to a new navigation bar menu, similar to Oculus Home, that will enable you to move back and forth between important parts of the game without having to hunt through a menu hierarchy.  This will include the ability to change your options before starting your ride.
We are also looking at ways to improve the ride experience itself.  We are adding ambient audio options (such as Forest, Ocean, City, etc) that you will be able to change yourself from the pause menu, while also tagging our suggested rides with audio recommendations.  Ride creators will be able to tag their own rides with audio recommendations as well.  We are also looking at tagging rides with rendering mode recommendations (Country, City, Comfort) and also chasing down some interesting ideas on how we might improve and/or recommend each of those modes as well during a ride.
This is all very exciting stuff for us and we hope to have it in your hands (and legs) in a few weeks.  Thanks as always for your feedback and support.
Jason Warburg
Chief Product Officer
VirZOOM, Inc.