Kevin Brook from VR Fitness Insider sat down (virtually) with the founders of VirZOOM: Eric Malafeew, CTO and Eric Janszen, CEO. Throughout the panel they discussed the history of VirZOOM, the birth of VZfit, and made an exciting announcement about the future! 
early days
When Malafeew and Janszen came together to create a virtual cycling experience back in 2015 virtual reality wasn't easily accessible to all. With the original VirZOOM bike, users needed to be tethered to PC VR making the experience cost prohibitive. Because of the high cost and limited accessibility of VR at the time, the VirZOOM team decided to shift their focus towards commercial use. VirZOOM was available in select gyms in the U.S and internationally.
today 
The company took another direction with the pivotal release of the Go and Quest headsets by Oculus. These affordable, lightweight, and all-in-one VR headsets opened up the opportunity for VirZOOM to create the ideal consumer experience.  The VZfit Sensor Kit was developed to allow any stationary bike to play, and the new VZfit Explorer app let users ride all around the world through Google Street View. 
Back in June of this year VirZOOM made the leap to an open hardware platform. With this new change, individuals who owned Bluetooth-connected fitness machines or sensors could easily give VZfit a try! 
the future
Throughout the years the team has made strides towards an easily accessible and inclusive VR Fitness platform, and is moving even closer to that in the near future.  VirZOOM is excited to announce that the official Oculus Quest Store version of VZfit will be launching in 2021!
"The next version of VZfit will have a new main mode that you can play without a bike… just with head and hands" – Eric Malafeew, CTO
This and other new features will be released to our current customers as they are developed, starting with our next update, which will provide a "demo mode" for people to experience VZfit Explorer without a bike.
Here's a sneak peak of the VZfit for Quest concept.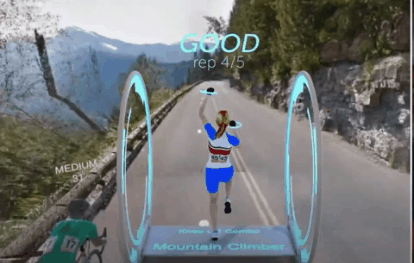 Keep up with all things VZfit by following us on Facebook, Twitter, Discord, and Instagram!