VZfit and the Winter Games
When putting together this series of rides the history of the Olympics in these locations kept coming up in discussion and was always on our minds. Now that the challenge is coming to a close we thought it would be fun to take a deep dive into the sites that you saw and brief glimpse at the past Olympic events with some of the fun facts.
Going for the Gold in Oslo
When you think of Norway, what picture comes to mind? You may see yourself gazing over one of its many fjords, wading through a deep snowfall, spending a summer beneath the midnight sun, or you might picture Vikings from centuries passed! Norway is a nation of astounding beauty and action-packed history. It's also a nation with a love for winter sports! 
In 1952, the world's greatest winter sports athletes gathered in Oslo to compete in the Winter Olympics. What place on Earth could possibly be better? 
A Brief History
Did you know that the 1948 Winter Olympics were originally supposed to be held in Oslo? However, because of post-war conditions, that didn't happen. Instead, the event was hosted in Switzerland (a much safer place to have fun at the time). Discussions about hosting the games in Oslo took place nearly 20 years before the rights were finally given! 
A new hotel was built in Oslo specially for officials and members of the press, as well as housing for athletes. Some of the games themselves were held in Bislett Stadium, Norway's most renowned sports stadium. Sadly, the building in which the games took place (such as figure skating and other indoor winter sports) no longer exists. It was demolished in 2004 and rebuilt a year later. However, modern Bislett will always be known for the 1952 Winter Olympics!
Now that we've dived into the event's beginnings, let's look at what happened afterwards. More specifically, those who took home the gold!
Who Won the Gold?
Canada's ice hockey team won their 7th gold medal out of 8 events! 

Austria won the most gold medals in the alpine skiing competition. However, American athlete Andrea Mead Lawrence took home 2 gold medals – a first for US skiers!

Norway dominated the ski jumping competition each time since the 1924 Winter Olympics – and 1952 was no different. 

Husband-and-wife duo Ria and Paul Falk (from Germany) earned a gold medal in figure skating. What a romantic win! 

Germany also nailed the bobsleigh event – both two-man and four-man competitions! 
There were 22 events in total. Each event showcased what hard work, determination, and passion can do! Several athletes who competed in the 1952 Winter Olympics made history – as they continue to do every 4 years.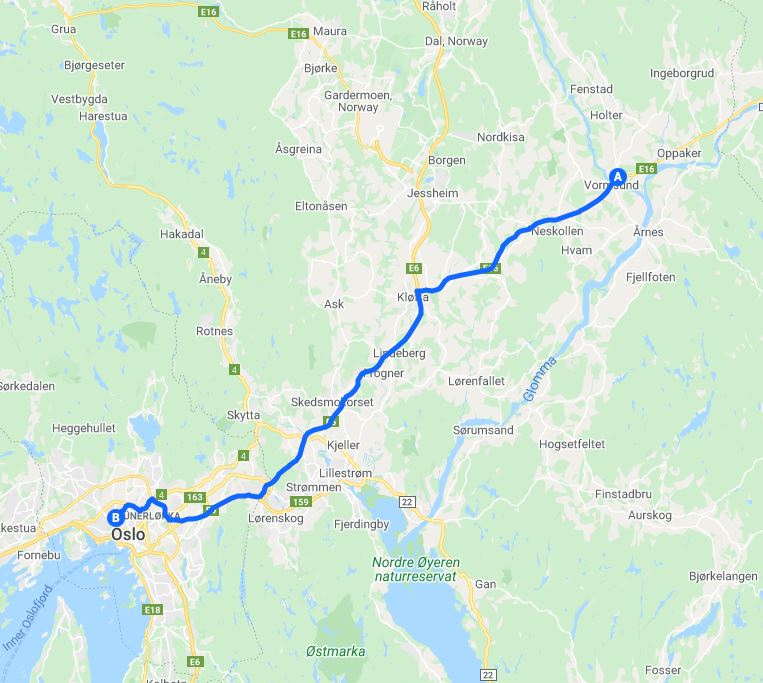 The ride begins in Vormsund, Norway. Vormsund is a very small village with a population less than 500. While it may be a humble start, you'll end your journey in the big city! 
Soon after your departure, you'll cross Vorma – a 19-mile river that runs through the village. Then you'll continue traversing the peaceful countryside until you arrive in Kløfta. You won't be staying in this little town for long, though – we have places to be! Instead, you'll be circling the overpass you just crossed and continuing onto the highway beneath it. 
You'll travel Norway's busy highways for many more miles – but don't worry! There's plenty to see while you exercise and await the grand finale. It's less about the destination and more about the journey. The same mantra can be applied to fitness as well!
Toward the end of the ride, you'll find yourself in the historical (yet modern!) city of Oslo. The capital of Norway is home to nearly 700,000 inhabitants! For comparison, the population of the entire country is only 5 million. A pretty large portion of Norway can be found in the bustling capital city! You'll definitely want to sightsee in this area – and lucky for you, Bislett Stadium is on the western side not far from the harbor! 
As mentioned before, the original stadium was demolished and replaced with a new version. The building we see today can be identified by the Olympic rings on the front! All who pass the stadium remember the 1952 Olympic Games which were held there. It's clear that Oslo holds its Olympic status high – and proudly. A future Winter Olympics just might take place in the new-and-improved stadium! You may be tired after finally reaching the stadium, but think of yourself as a gold-medal champion for making it that far. You rock!
The Slopes of Squaw Valley
Squaw Valley, also known as Olympic Valley (and Palisades Tahoe as of 2021), hosted the Winter Olympic Games of 1960. When most people think of winter sports, California is one of the last places to come to mind. But if you take a break from the beach and head east to the beautiful Sierra Nevadas, you'll find one of America's greatest winter sports havens! Let's get into some fun facts about the event – and how you can relive it for yourself. 
The Magical World of Winter Games
What made the Squaw Valley Winter Olympics so memorable? First of all, Walt Disney served as head of the opening ceremony committee! Although it was mostly for publicity, involving such an iconic figure made for a Winter Olympics like no other. The opening ceremony included amazing spectacles such as the releasing of thousands of doves and balloons, ice sculptures, and high school band/choir performances! 
It was also the first Winter Olympics to tab results using a computer. Modern tech was on the rise around this era, so the transition was a huge deal for scorekeepers! 
On the downside, the 1960 Winter Olympic Games were the only in history to exclude bobsledding. A bobsled run is an expensive build – and because only 9 countries had competing teams, the committee chose to leave the sport out.
It's pretty clear that the 1960 Winter Olympics event was one for the books. Ready to do some time-traveling? Put on your Oculus Quest 2 headset and be on your way to the mountains of eastern Cali!
Olympic Valley Adventure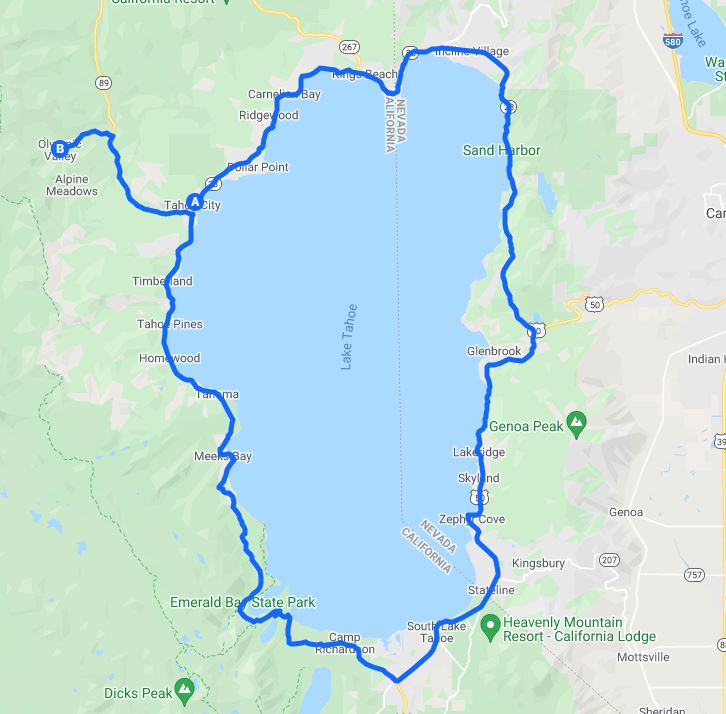 This ride is a unique one! You'll begin at Commons Beach on the shores of Lake Tahoe, and although Olympic Valley is just minutes away from the starting point, we'll be circling the entirety of Lake Tahoe on this journey! If you're in it to get fit (or even just for the adventure), you'll know that the scenic route is the best route. 
You'll pass multiple harbors, resorts, and beaches as you make your way around the massive Lake Tahoe and back to the starting point. Then you'll head eastward towards your destination. The lake is known for (you guessed it) winter sports, water activities, and relaxing getaways. Forget the city lights of LA – lake life is where it's at! 
When you reach Crystal Bay at the northern part of the lake, you'll cross over into Nevada. Two states in one ride? It doesn't get much better than that! Once you reach the southeastern corner of the lake, you'll cross back into California – in the middle of a lovely resort town!
When you finally reach Palisades Tahoe in Olympic Valley, you'll find yourself in a cozy village tucked between towering, white mountains. Hot chocolate and alpine skiing, anyone? 
You've made it – and you deserve a gold medal for that long trip!
Welcome to Lake Placid
Who would've thought that a tiny village in New York would become an Olympic venue? Well, it did – and twice! Lake Placid, NY is remembered for hosting the 1932 and 1980 Winter Olympic Games. Calm and picturesque, Lake Placid is the perfect getaway for winter sports enthusiasts. It's surrounded by the Adirondack Mountains of northeastern New York – elevated at over 5300 feet! 
Since hosting not one – but two – Winter Olympic Games, this humble village has grown to be anything but humble! The Lake Placid Winter Olympic Museum, located in the town's Olympic Village, pays tribute to both events and attracts tourists from all over. Lake Placid's place in history is quite clear! 
So, what happened during the 1980 Winter Olympics in Lake Placid? Let's find out!
Let it snow… or not
In order for the Winter Games to take place – especially in terms of outdoor sports – you have to have snow. And unfortunately, the weather doesn't always accommodate. The weather was dry in Lake Placid in February 1980, but organizers had a solution! The 1980 Winter Olympics were the first ever to use artificial snow. While fake snow is very different from real snow, at least fake snow provided the terrain (and aesthetics) needed for alpine skiing. There's no Winter Olympics without skiing!
As far as victories go, Eric Heiden, an American physician and master speed skater, won an astonishing 5 gold medals! He was the first Olympian ever to win 5 medals in one event. 
East Germany earned the most medals all around, but the USSR took home the most gold medals. However, when the amatuer US hockey team went up against the game-dominating Soviets, America went home with an unforgettable upset win! The match has since been dubbed the "Miracle on Ice" and gone down as one of history's greatest hockey games!
Ready to explore Lake Placid for yourself? VZfit has got you covered.
Around the mountains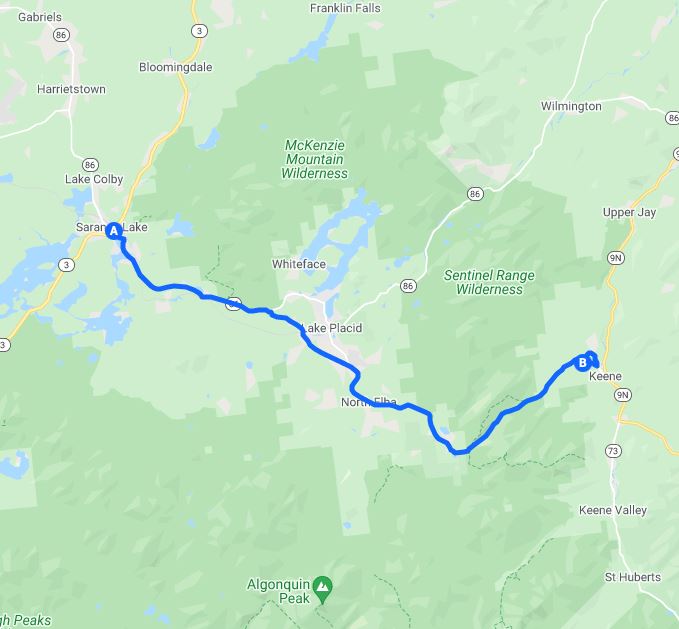 Your journey begins at Saranac Lake to the west of Lake Placid. You'll be gazing upon the mountain range that made these Winter Games possible! You'll cross a small portion of Lake Flower and continue through the forests of upstate New York. There are plenty of mountain views on your trip – so don't miss the chance to take it all in as you're working out!
Halfway through your journey, you'll pass Lake Placid. That's right – we're only passing! However, you'll go on to see the Ski Center, the Lake Placid Bobsled Experience, and more! Winter sports activities are in abundance in this part of the state.
As the ride concludes, you'll loop around the Cascade Brook – a popular trail in northeastern US. 
Welcome to Calgary
Alberta, Canada is one of Earth's most beautiful wintry wonderlands. And its largest city, Calgary, sits just east of the snowy Canadian Rockies. Therefore, it's no wonder its residents (and many tourists) have a deep-rooted love for winter sports! After all, ice hockey is the national sport. And, like with all other winter sports destinations, Calgary was an ideal candidate for the Winter Olympic Games.
In 1988, 57 nations went head-to-head in this lively city for the first time ever! Glass ceilings were shattered, historic gold was won, and these Games even inspired a movie! Let's dive into some facts about this unique event – and then we're going to tell you how you can see Calgary for yourself!
Gold medals and silver screens
Debi Thomas, Team USA, was the first black winter sports athlete to win a medal in the Games! She scored 3rd place in figure skating – one of the Winter Olympics' most anticipated events. Her determination was an inspiration not only to African-American athletes, but to all athletes from minority backgrounds!
This event was the last to have short track speed skating only as a demonstration sport. Each Winter Olympics afterwards has included the sport in the competition. 
Perhaps the most well-known feat at the 1988 Winter Olympics was the debut of Jamaica's first bobsledding team! The good news is that this moment in Olympic history inspired the hit movie Cool Runnings. The bad news is that the team finished last due to a mid-race crash. The film painted a heartfelt (though mostly fictional) picture of the team's story. Today, the Jamaica National Bobsled Team lives on – and they continue to inspire the world. 
On this VZfit ride, you'll start your journey in the heart of Calgary! To your left is the Olympic Plaza. This modern park served as the ceremony venue during the 1988 Olympics. The plaza is surrounded by impressive skyscrapers. Enjoy the view while you can – because the scenery will change very soon!
Upon leaving Calgary, you'll pass the Bow River and head west towards the mountains. Everything is bursting with color – from the sky above to the deep green pine forests! This scenic ride will have you hooked from start to finish. 
The ride concludes when you reach Kananaskis Village: A mountain resort with some of the best views in Alberta! There's something about a mountain view that makes you feel as though you can conquer the world. That's the kind of feeling every fitness game needs, right?
What's even better, you can manually add 4 alternate routes at the end of your ride! Visit more points in the village or travel further south to Mt. Kidd RV Park. The ride is what you make it – so be creative and have fun!
Bonjour, Albertville!
Albertville is a small town with a big reputation! Tucked away in the mountains of southeastern France, this little-known area was the venue for the 1992 Winter Olympic Games… the official venue, anyway. Only 18 out of 57 games took place in Albertville. The rest of the games were scattered across other resort spots in the Savoie region. However, the opening ceremony was held in Albertville, giving it the spotlight! 
As with past (and future) Winter Olympics, there were many talented athletes who made Olympic history! Let's explore some highlights, fun facts, and how you can see the beautiful mountains of Albertville for yourself – right at home!
Stronger Together
Perhaps what stood out most during these games was the unification of East and West Germany – not just as a nation, but as a team! The USSR had also ended its statehood by this time, forming a team called the United Team, made up of 12 nations. 
Raisa Smetanina, a cross-country skier from the Soviet Union, went down in history as the oldest (and most successful) Olympic athlete! At nearly 40 years old, she had competed in 5 Winter Olympic Games. What an achievement! 
The youngest Olympic champion made his debut at these games. Toni Nieminen, a Finnish ski jumper, was only 16 years old when he won the large hill ski jump! You're never too young to shoot for the stars – or the gold!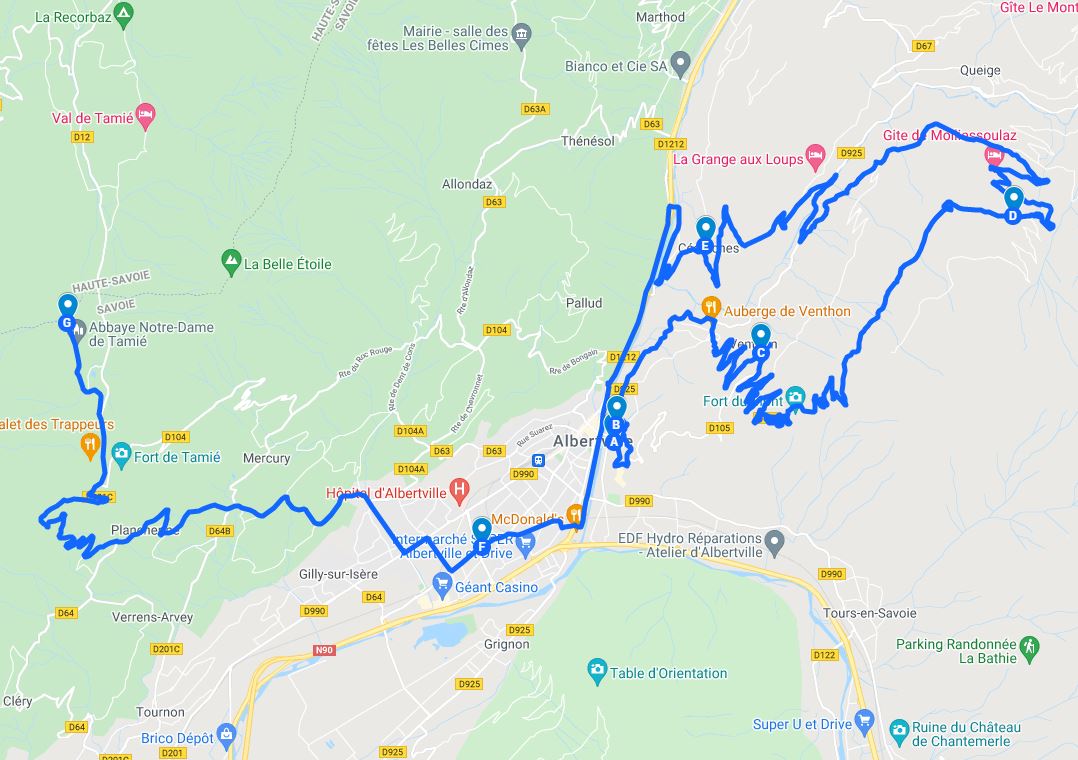 Winter 1992 in Albertville was an unforgettable one to say the least and this ride allows you to make the journey entirely your own. You'll start your journey near Albertville's Olympic village. Travel east and west to 7 different points across Savoie! You'll see snow-capped mountains, charming European architecture, and of course, Olympic history. The French mountains are calling your name!
Nagano in Gold
Nagano, Japan might be known for its hot springs, but the city is anything but warm when winter rolls around! The city's gorgeous snowfalls and scenic mountains make it the ideal hosting grounds for the Winter Olympic Games. And in 1998, the Nagano Olympics became a reality. However, this wasn't Japan's first Olympic rodeo. In 1972, Sapporo won the rights as a venue. Seeing the games return to Japan was an exciting time for winter sports fans!
Made for Greatness
This one's for the kids! American figure skater Tara Lipinski – only 15 years old – became the youngest gold medalist in Winter Olympics history! Figure skating is a complex sport that is quite difficult to master. Winning a national figure skating competition at 15 was an amazing feat! Anything is possible with passion and hard work. 
These games also painted a picture of true resilience. Anyone who watched the event may remember Hermann Maier's nasty tumble down the slope. Dubbed the "human cannonball", the fall might have been a sight to behold, but a win was forever lost. Like every great athlete, however, Maier got back up and won gold in 2 other events: Super-G and Giant Slalom. Perfection is never guaranteed – but pressing on is always an option! 
As with every Olympic Games, we see plenty of successes as well as failures. No matter what happens, each Olympian is chosen because they're a master in their sport, and that says everything! The Nagano Winter Olympics were no different.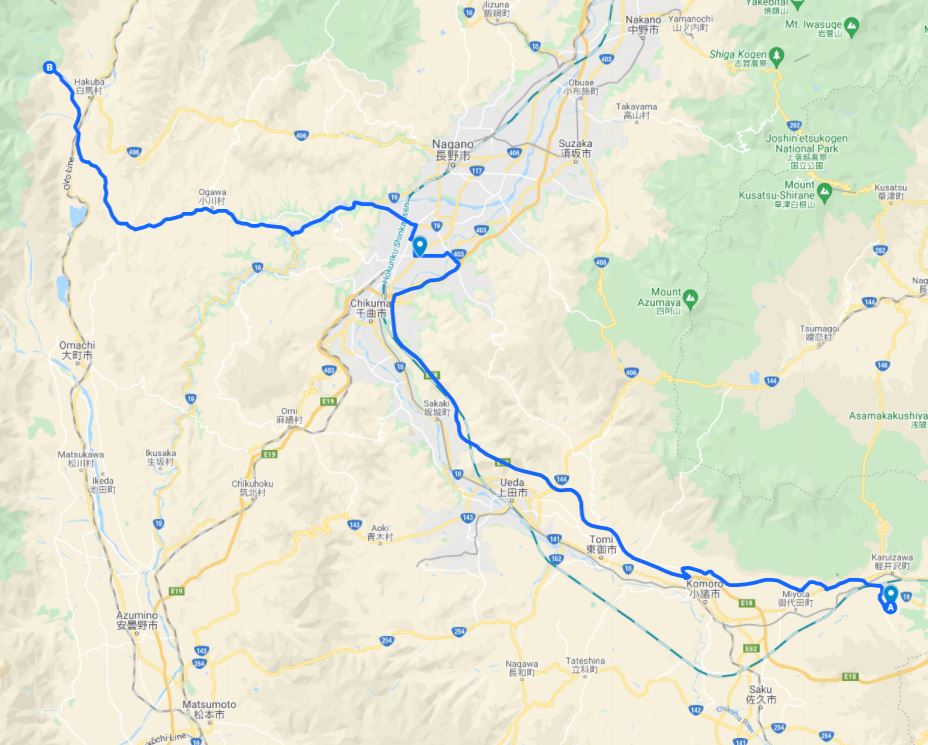 When you begin your ride, the first thing you'll notice is Karuizawa Kazakoshi Park. But it's no ordinary park – it's an ice park! For ice-related sports, that is. Skating and curling take place here. 
You'll travel north through busy, urban Japan until you finally reach Nagano. Be on the lookout for Nagano Olympic Stadium! The large building, which almost resembles a blooming flower, is hard to miss. Don't forget to take in the beautiful rolling mountains surrounding the city! 
As the ride comes to a close, you'll be met with spectacular views of Japan's northern alps – topped with snow and mesmerizing fog. Hakuba, your last destination, is another winter sports hotspot. It's no wonder the Winter Olympics were held twice in Japan!
Snow Days in Salt Lake City
Salt Lake City is covered in white, but it's not salt – it's snow! In 2002, Salt Lake City, Utah, hosted the Winter Olympic Games. The city is one of America's best venues for winter sports! And if you've ever visited, you'd understand why. Beyond the metropolitan landscape lies the Wasatch Mountains – practically touching the sky! 
You'll find many basketball fans in the city, but that doesn't mean you won't find plenty of winter sports fans/athletes. If you've been keeping up with our Winter Olympics blog series, you'll know that we're getting closer to the end of our journey through time. But we're not done yet! Let's dive into some "cool" facts about the 2002 Winter Olympics – and how you can be a part of the fun at home! 
The Domino Effect
Maybe this fact isn't "cool" in the figurative sense, but it was still a memorable highlight in these Games. The good news? For the first time ever, an Australian athlete (Steven Bradbury) won a gold medal in the Winter Olympics! The event was Short Track. The bad news is that each of his competitors fell on the last go-around – one by one. The last man standing, Bradbury crossed the finish line and took home the gold. A win is a win!
At these games, Women's Bobsleigh was added to the event list! Vonetta Flowers, a bobsleigh athlete from the US, was the first black athlete to score gold. Also, Jarome Iginia from Canada became the first black male to win gold! These superstars went down in Olympic history – and inspired millions!
Lastly, Georg Hackl became the first Olympic athlete to win a whopping 5 gold medals in a single event: Luge! You can never have too much gold – or determination!
Welcome to the Beehive State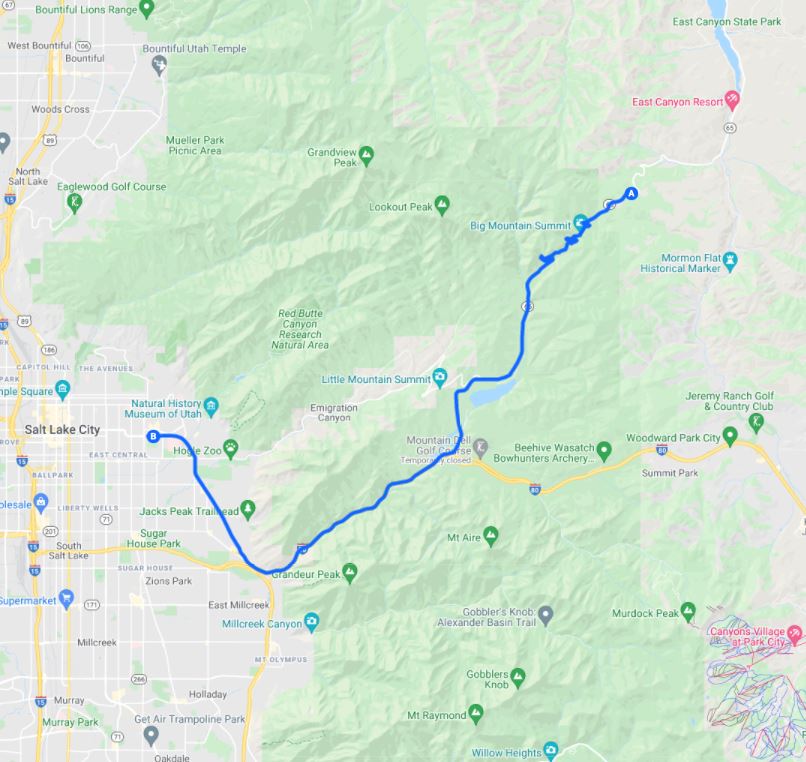 Don't expect to see any bees on your trip – but do expect to see some spectacular views! You'll begin at the Wasatch Recreational Camp and make your way through the mountain range into Salt Lake City. The Salt Lake 2002 Olympic Cauldron Park, the central hub of the Games, is your destination. The park attracts plenty of visitors to its museum! Soon after passing the building, you'll make a U-turn (for Utah!) and the ride will end. 
Travel to Torino!
Wrapping up our 8-part Winter Olympics series, VZfit welcomes you to Torino! The 2006 Winter Olympic Games were hosted in Torino (also known as Turin), Italy. While many Winter Games were held in the most humble of locations, that wasn't the case here. Torino is Italy's 4th largest city – making it the largest Winter Olympic city ever. 
Torino is the birthplace of the FIAT and lies just south of the Alps – Europe's prized mountain range. The range runs from southeast France to western Austria. Torino's competitors were also within the Alps, but the classy Italian city won hosting rights!
Recent history is still history. Let's look at the highlights!
A Great Run
In one of our previous rides, we learned about the first-ever Jamaican bobsleigh team. It wasn't until 2006 that a Jamaican bobsledder took home a medal! Though Jamaican-born athlete Lascelles Brown competed on the Canadian team, he represented his home country as well as Canada when receiving that medal. What an inspiration! 
In other events, Evgeni Plushenko of Russia didn't just take home the gold – he set a world record! He scored an astounding 90.66 in the men's figure skating short program. Figure skating is one Olympic sport that is also an art – making the achievement even grander! 
"Passion lives here" was the motto of the 2006 Winter Olympics, and considering the goals reached and bars set, it proved true. Passion is the common trait among all Olympic athletes! Are you ready to share their passion? VZfit invites you to take a ride through stunning northwestern Italy!
An Italian Getaway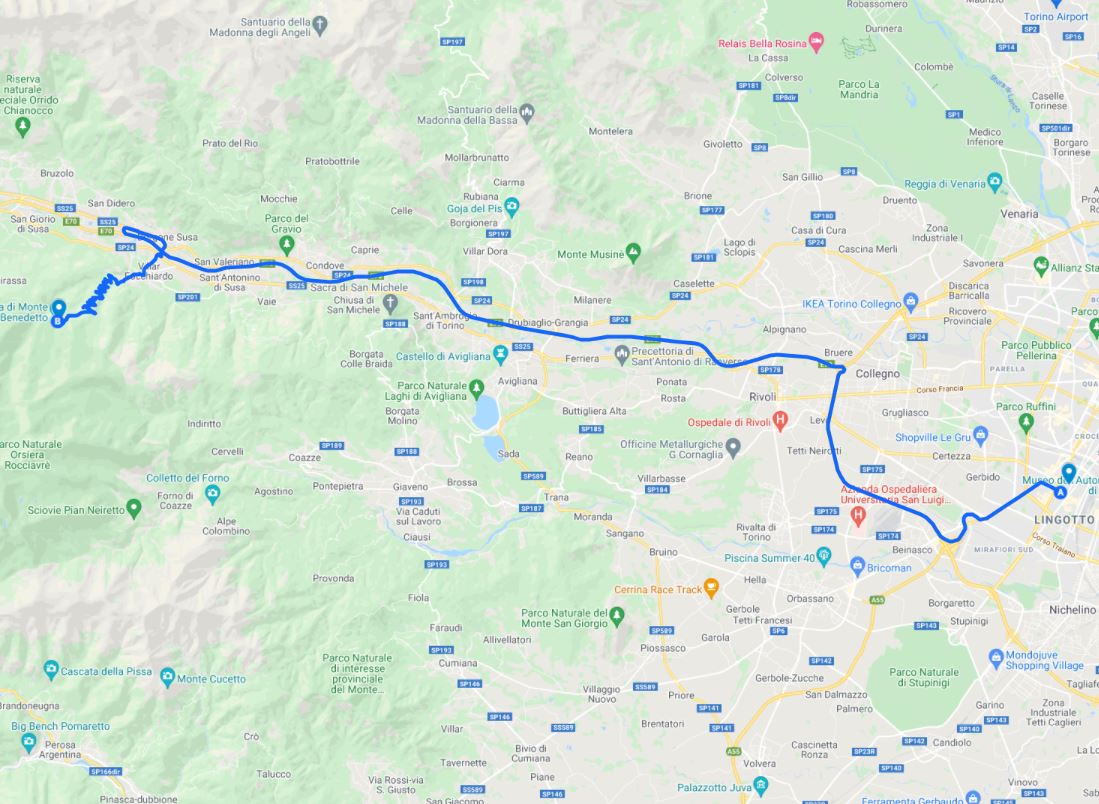 What's better than traveling to one of the world's most popular destinations? When you begin the ride, you'll find yourself next to the Olympic Grande Torino Stadium. Don't stop moving, but take your time admiring the picturesque city. You'll soon be saying hello to the beautiful European countryside – tucked away in the Alps!
When you see a herd of cattle staring at you (and attempting to block your path), you know you've reached Certosa di Monte Benedetto, your destination. They're not staring at you because they're frightened – they're impressed at how far you've come! On a more serious note, the landscape feels as though you've wandered straight into a fairytale. Out of all our Winter Olympics-themed rides, this one is our most therapeutic yet. You definitely want to check it out! 
 Get "moo"-ving with VZfit!
As this challenge comes to a close, we want to wish all our players a happy Winter Olympics season! VZfit is the best way to beat the winter blues and get fit wherever you desire – and in the comfort of your own home. All you need is an Oculus Quest 2 and – like your favorite winter sports athlete – a little passion! If you haven't already, check out our 7 other Winter Olympics rides dating back to 1952. 
Wherever you roam, we can't wait to meet you there! Ciao!