The World's Largest Dinosaur is a fun and famous roadside attraction located in Drumheller in Alberta, Canada. The colossal tyrannosaurus rex attracts tourists and visitors to take in the massive 86 foot tall structure. Lovingly named Sue, the roadside attraction of the World's Largest Dinosaur is one of the many dinosaur themed attractions in the town of Drumheller. The reason for all the dinosaurs is the large number of fossils as well as the amazing Tyrrell Museum Of Paleontology which is packed full of over 160,000 fossils. On this ride, you'll get to take Dinosaur Trail and see some of the beautiful Alberta landscape. Let's go over some of the fun things you'll encounter on this fun virtual ride through Drumheller.
Midland Provincial Park
As you make your way along this curated virtual ride, you'll pass Midland Provincial Park. This area of the Canadian Badlands features dramatic landscapes that is home to one of the largest deposits of dinosaur fossils in the world. Take in the beautiful flat-topped mesas that create a beautiful background on this section of the ride. This is also where the Tyrrell Museum Of Paleontology.
Midland Mine
Further down the route, you'll encounter the Midland Mine. This fun attraction offers tours and information about the mining industry in this area. It is also home to some beautiful scenic trails to take in even more scenery of the beautiful Canadian Badlands.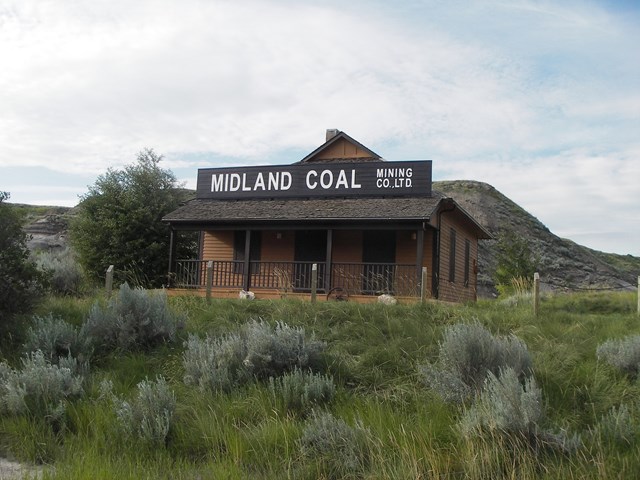 Michichi Creek
Towards the end of the World's Largest Dinosaur curated ride, you'll cross over the Michichi Creek. This area attracts visitors to take in the beautiful landscape and learn more about the area. The Michichi Creek is home to a large population of beavers and on the interpretative walking trails and boardwalk you can learn more about the population and see their beaver dam. Take in the beauty of this natural environment in Alberta, Canada.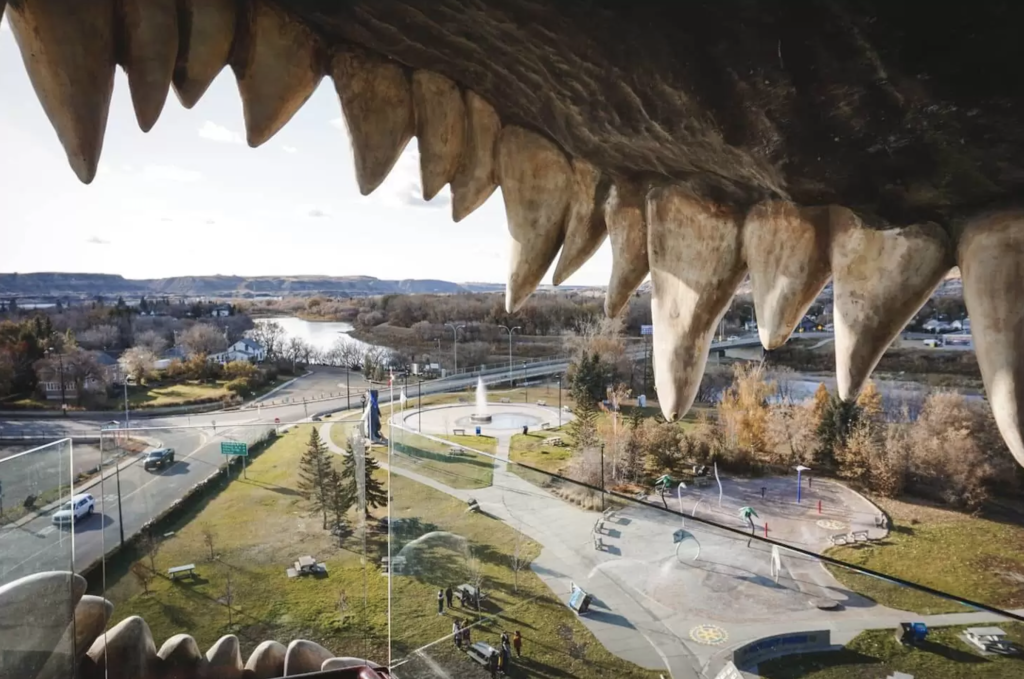 Dinosaur Trail
The World's Largest Dinosaur curated route follows the Dinosaur Trail through Drumheller. On this 6.8km trail, you'll get a taste of the many attractions the trail has to offer. The full Dinosaur Trail is 48 km long. Along this trail, you'll see much of the epic landscape in the area that was once teeming with dinosaurs. Over the 75 million years since dinosaurs walked the area, the landscape has been carved into deep canyons and river valleys that are reminiscent of an out-of-this-world, lunar landscape. Enjoy the ride and take in the epic views!