The VZfit Suggested Challenge rides are sure to push you to get a great workout while also getting to take in some amazing sights from places you've never been before. Alaska remains a wild frontier of epic and rugged landscapes of which most are greatly unpopulated. It's a treat to get to experience these wild and untamed areas of the world from the comfort of your own home.
This VZfit Suggested Challenge Ride through Yukon, Alaska allows you to take in the remote and majestic wilderness of a road unfrequently traveled. These roads are quite treacherous in person and require well-equipped vehicles and much preparation. With the curated route through the Yukon in Alaska from VZfit, you get to take in all the sights without the danger or frustrations. Let's take a look at what you'll get to see on this wild and untamed ride through Yukon, Alaska.
The Yukon
The Yukon is a region that spreads through Alaska and British Columbia. It forms a peninsula that is an expansive region of land that is very wild and rugged. The terrain of this area is majestic and contains amazing mountain ranges and landscapes that are thrilling and beautiful to take in. This 93 mile ride curated through the Yukon allows you to see what a wild and untamed landscape in Alaska would look like.
This long ride will grant you views of the rugged landscape of mountains and remoteness. It will undoubtedly have you feeling like an explorer out in the middle of nowhere. Alaska has been an adventurer's destination for centuries with many travelers braving the elements to explore the most remote areas in the Yukon.
Coldfoot
When people drive Route 11 through Alaska, they must prepare accordingly with extra supplies and fuels to make sure they make it to the next area for necessities. Due to the remoteness of the region, there aren't many towns, gas stations, stores, or facilities available. Luckily, you won't have to face these extra precautions on your virtual ride. You will, however, get to pass through the town of Coldfoot.
The town supposedly gets its name from gold seekers who would make it to the town and then turn around instead of descending deeper into the wilderness of the Yukon. It offers facilities in a very desolate area and serves as a base camp for both the Arctic National Park and Preserve as well as the Arctic National Wildlife Refuge. The town of Coldfoot will be the only settled area with structures that you will pass on the curated ride.
The Dalton Highway
The Dalton Highway is also known as the Haul Road through Alaska. It is primarily used by those transporting goods and materials from the North Slope Oil Fields. It is an extremely desolate and remote road and not for the faint of heart. On this curated VZfit ride, you'll get to take in 93 miles of the over 400 miles road that connects Fairbanks and southern Alaska to the oil fields in the north.
This highway was made famous by the show Ice Road Truckers which shows drivers hauling materials on the treacherous road. The road is mostly gravel and poses many risks. While it has gained popularity, most people don't recommend taking it on because there are services few and far between which can get dangerous in the colder months. Fortunately, with VZfit, you don't have to worry about the logistics and can just focus on the natural scenery and getting a workout.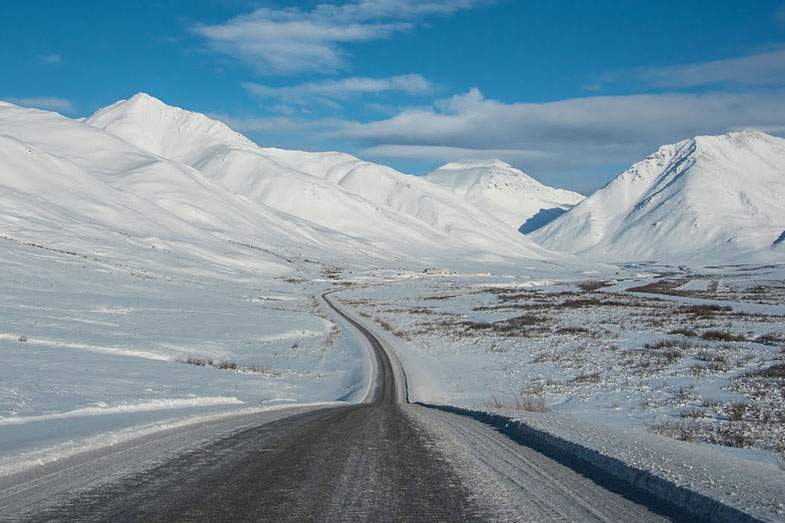 Remote and Wild Exploration
These days, there doesn't seem to be many places in the world that are untouched. Alaska still holds the reputation as a wild and untamed place on its own terms. While this may pose danger and risks for those physically visiting the area, it still holds a lot of sublime and majestic scenery for those willing to brave it.
With the VZfit ride, you can experience a good section of the Haul Road in Alaska without the risk. Due to the length of this ride, you'll also get a fantastic workout. Cycling 93 miles definitely takes a bit out of you so it's great to have beautiful scenery along the way.
In A Nutshell
The VZfit Suggested Challenge Ride: Yukon, Alaska offers you a great and long workout that will have you feeling accomplished and proud at the end. It takes you on a 93 mile section of the 414 mile Dalton Highway, made famous by the Ice Road Truckers show. Explore the wild and remote road that connects southern Alaska to the oil fields up in the north. Tap into your wild adventurer side and see sights that are not taken in by many. Happy exploring on this wild curated VZfit ride!